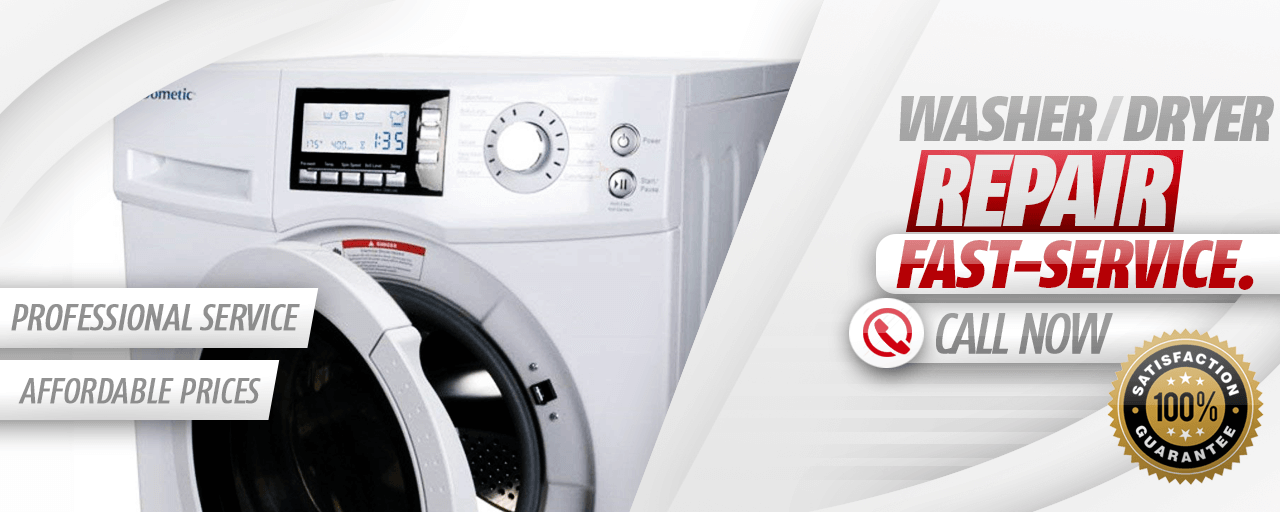 When the washer or dryer breaks down, it is really inconvenient. No, you do not need to start making trips to the laundromat or let the dirty clothes pile up. For reliable same-day repairs at an affordable price, call us at Direct Denver Appliance Repair.
Our experienced technicians undergo continual retraining in the newest technologies, parts, and tools. Our vans are stocks with manufacturer parts for all the major brands of washers and dryers – including LG, Kenmore, Sears, GE, Bryant, Armstrong, Carrier, Goodman, Lennox, RCA, and others! Call us today if your washer or dryer are giving you trouble and we will have them running just fine in a few hours!
WASHER PROBLEMS
LOUD/CONSISTENT NOISES
Loud noises are the largest source of requests for help with the washer. This is often a broken pump motor although bad bearings or worn belt can also be noisy. We carry the parts and tools to fix loud noises and get your washer back to normal operation no matter which brand you have.
WON'T TURN ON/AGITATE
When your washing machine will not turn on make sure the circuit breakers are not flipped and that the machine is plugged in. Broken timers, thermal fuses, and door latches are frequent reasons for this problem. When your washer does not agitate, you have damaged or non-functioning coupler, agitator cogs, drive belt or transmission. Call us to fix the problem today.
WON'T SPIN
When your washer does not spin the problem is with the door latch, motor coupling, or wax motor. Call us and we will come out the same day and fix the problem on the spot.
OVERFLOWS
Washers overflow because of issues with the water level pressure switch, water inlet valve, or the air dome tube on the machine. These are same-day, one the spot repairs.
NO HOT/COLD WATER
When your washing machine doesn't produce cold or hot water it is because of a broken inlet hose or temperature control switch. We carry the part to fix this on all major brands.
CALL TODAY: (720) 452-4180
DRYER PROBLEMS
LOUD/CONSTANT NOISES
When you hear a loud noise coming out of your dryer, call us right away. You have a broken bearing or seal or a worn belt. None of these will get better on their own! Call us for same-day repairs on all major brands and models of dryers.
NO HEAT/WON'T DRY
When a heating element breaks or there are problems the high limit thermostat or cycling thermostat, your dryer will not heat up and dry the clothes. And, sometimes the same parts malfunction and cause the dryer to get too hot and scorch your clothes. We can fix this problem on any major dryer brand. Call us for same-day service.
WON'T TURN ON/TUMBLE
The first thing to do is our dryer does not turn on, is to make sure it is plugged in and that the circuit breaker did not trip. Then, you need to call us for service the same day. We will first check the heating element, high limit thermostat, and cycling thermostat which are the usual culprits. Our well-trained technicians carry the tools and parts to fix this problem on a single visit.
WON'T TURN OFF
When your dryer will not turn off it is usually a problem with a timer or the door switch. Don't get in the habit of just unplugging the dryer. Call us and fix the problem the first time that it happens.
TIMER WON'T ADVANCE
Your dryer has a timer that advances the appliance through its cycle. When the timer motor or cycling thermostat malfunction the dryer does not advance properly and may keep running for hours. This is an easy issue for us to fix. Call us for same-day service.